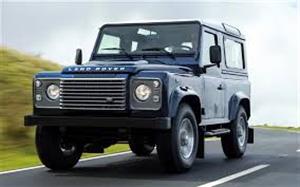 In this lovely part of Yorkshire there is an ever increasing amount of 4 x 4 vehicles on the roads but very few garages that have the facilities or know-how to maintain them correctly. Historically, visiting main dealers with a 4 x 4 can be quite costly and complicated.
At Wolds View Garage we can maintain yours without the inconvenience of you going into York or Hull main dealers. As a fully independent garage we are not held to manufacturers pricing schedules and therefore we are able to tailor any work to suit your vehicles usage and mileage. We follow set manufacturers schedules but are fully aware that some vehicles just do not cover the mileage to warrant expensive servicing. On the other end of the spectrum you may cover a huge amount of miles and therefore may require more in-depth services each time.
A large part of our work is with Land Rovers and Toyotas, but in recent years, and with the huge range of 4 x 4 vehicles now available, we carry out repairs and maintenance to manufacturers such as Volvos, Honda, Mitsubishi, Skoda, Audi and BMW.
We have in excess of 20 deliveries of parts per day, so can turn around vehicles very quickly. If your vehicle is here for more than 1 day we offer a free loan car although these do need to be pre-booked.
We have a wide range of diagnostic tools for pretty much all vehicles to investigate warning lights and remove service lights.
Our 4 x 4 work includes servicing (following main dealer schedules), MOT testing, general maintenance such as brakes, suspension components, bearings, clutches, tyres and exhausts. We also are aware that certain 4 x 4's require maintenance of differentials, brake fluid renewals, gearbox oil changes etc. We will advise you if any of these items require maintenance at the time of the service. We do not carry out any work without your go-ahead to save any nasty surprises at the collection.
We are also extremely competitive on quality tyres such as Marshal, Bridgestone, Continental and Good Year brands. We also offer a 'cost effective' tyre such as Jinyu or Rotalla. We offer choices on either road use tyres or off road use tyres. Please call for a fully fitted price. When fitting new tyres we would normally recommend a full 4 wheel alignment to ensure that your new tyres get the best possible wear. Again we would always get your approval before carrying out tracking/alignment.
We can offer a free loan car or van whilst your 4 x 4 is with us. As we have limited loan cars, please reserve one at time of booking your car in.