Welcome to Wolds View Garage - Pocklington 01759 307770
1st AUGUST - UPDATED GOVERNMENT GUIDELINES FOR MOT TEST EXTENSIONS DURING COVID 19
If your MOT test is due on or after 1st August 2020 you must arrange your MOT test as normal. You will not be eligible for any extension.
Over 70% of UK drivers are arranging to get their vehicles tested as soon as possible but we predict that there will be a 200% increase in the request for MOT tests during September and October. Please consider booking yours as normal. If you leave it for the MOT to expire we may not be able to carry out the test when you require it and therefore your car may be off the road waiting for a test or for parts.
Many thanks to our customers for not putting us under any undue pressure while we are working on their cars in these extremely challenging times and thank you so much for supporting your local garage.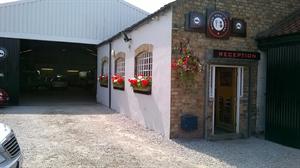 For over 17 years we have been operating as a family run, hardworking and professional vehicle workshop with a fully approved DVSA MOT test centre. We employ well informed, skilled and knowledgeable technicians that each have their own individual skills and abilities. This ensures that we can work confidently on a vast range of vehicles and can address a majority of issues, defects, faults or maintenance that your vehicle may require. We use 3 different computers systems that will identify engine faults, reset service lights and programme brakes, sensors etc. to the vehicles ECU.
We are the only DVSA/VOSA approved workshop and MOT test centre located in Pocklington town centre making it easy to drop off your vehicle to avoid the inconvenience of getting to out of town garages or to main dealers.
We employ local, experienced technicians who between them, have a huge amount of experience in Servicing, MOT testing, vehicle repairs and general maintenance, clutch and gearboxes, engine rebuilds, computer diagnostics, brakes, tyres and cam belt replacements.
We have also been MOT testing motorbikes for a couple of years now and due to local demand we have started to service and repair them too. Please call Brook on 01759 307770 and he'll be happy to talk to you about your bike requirements.
We are aware that modern car engines all require the correct oil grades and other lubricants so we ensure that we use the correct liquids and oils for your vehicle at all times.
BEFORE WE SERVICE YOUR VEHICLE WE ADD A FORTE MOTOR FLUSH TO CLEAN OUT THE OLD AND DIRTY OIL. THIS PROTECTS THE ENGINE AND ALSO HELPS TO KEEP THE TURBO IN GOOD CONDITION. IT ADDS ABOUT £15 TO THE SERVICE PRICE BUT IS ABSOLUTELY WORTH THE COST.
We will work out which service is the correct one for your car, what mileage it covers and what type of engine is fitted. All oils that we use are premium grade oils. Please note that carrying out the correct service on modern vehicles is quite time consuming and most require diagnostics equipment to reset the on-board computer and the oil levels. We do try to keep servicing costs to a minimum but like anything - doing the job correctly does come at a cost.
We are proud to be a "Female (and Male) Friendly Establishment"
---
©2020 Wolds View Garage, Pocklington, York YO42 2DG
Tel: 01759 307770